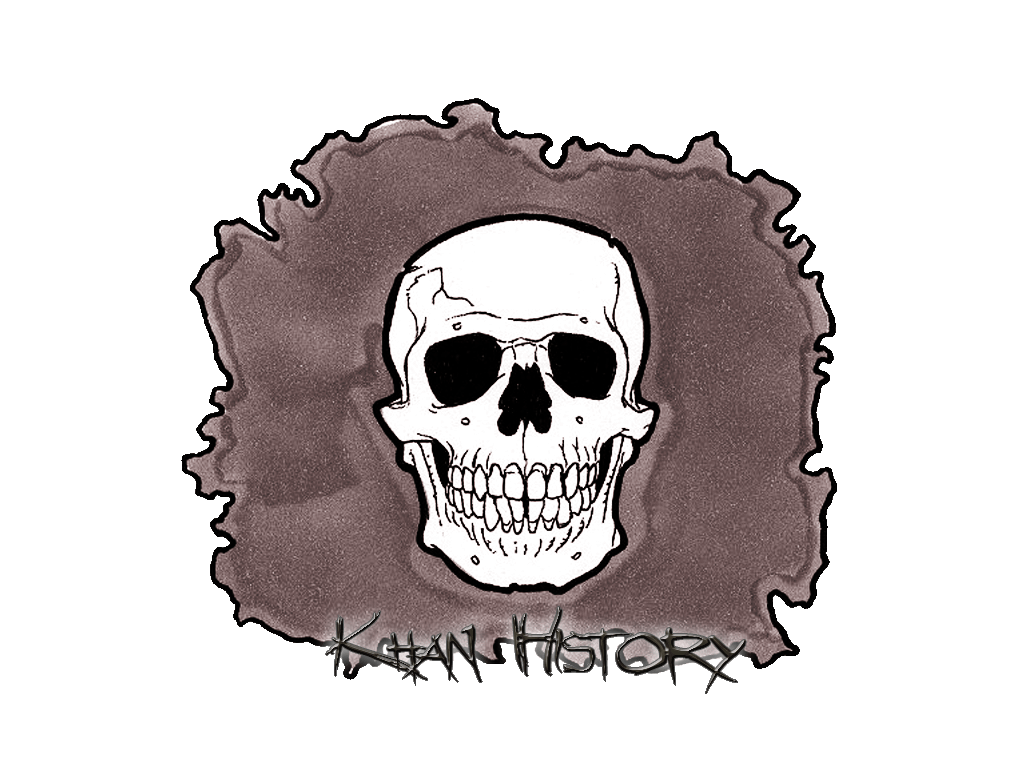 CHAPTER #1 - The Beginning
*NOTE* -The early days of the khans are still shrouded in mystery. Using internet archives, and recovered files from multiple hard drives,this is a chronological list of what we can confirm. The farther along the timeline we go, the more we know, but be aware that there are gaps even in the middle, and this is an extensive process that may not reflect all persons and all information and events.
2000-September-01
- Viren founds The Khans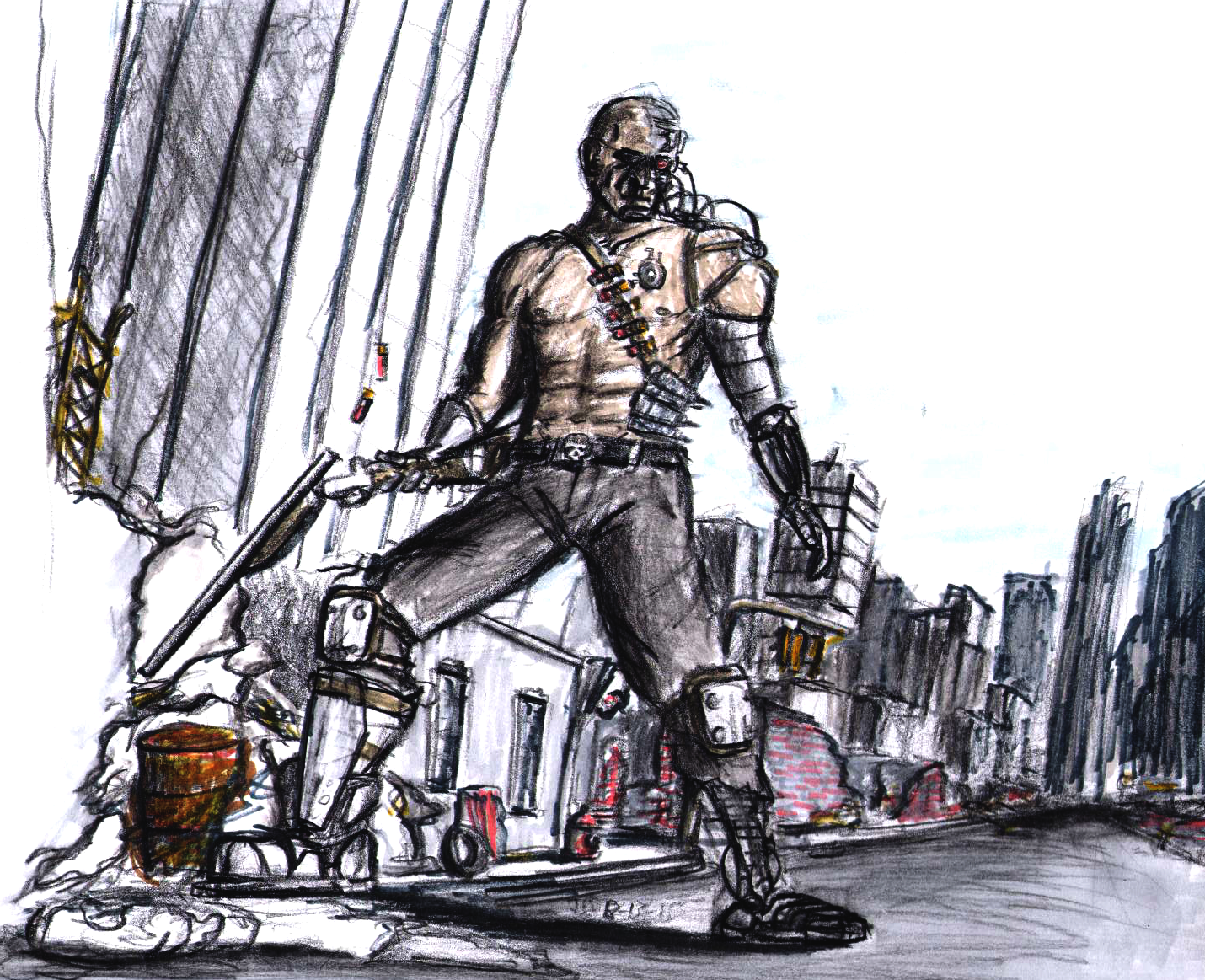 There is a forum war at
http://www.falloutx.com
during the anticipation to FOT release
2000-September-Dec
- Xaris founds first Khan Forum at
http://pub44.ezboard.com/bkhans
2000-September-Dec
- Khanswebpage hosted at
http://24.5.27.99:80/khans/main.html
2000-Late Winter - The discussed intent of The Khans is to stay small and elite
2000-Late Winter
- A limit of 11 members maximum is imposed - Community forum spam/hate is overwhelming against The Khans
2000-Late Winter
- The Khans successfully create hostile relations with community groups
2000-Late Winter
- said groups include: The Order, The Unwashed Villagers, The Mutant Army, The Black Company, The Golden Blade Clan. and The Dragon's Talon Clan
2001-January-26
- Fallout Tactics Multiplayer Demo Released!
http://www.khanscentral.com/programs/ftmultidemo.zip
2001-January-27
- Viren posts news that Khan webpage attacked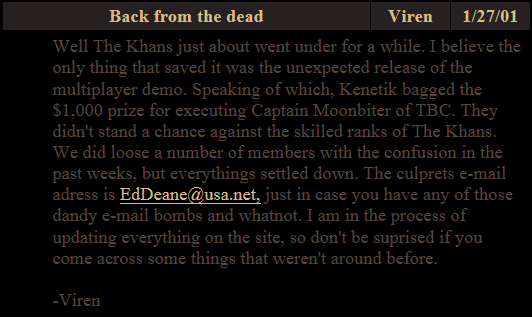 2001-January-27
- TKs-Kenetik kills TBC-Moonbiter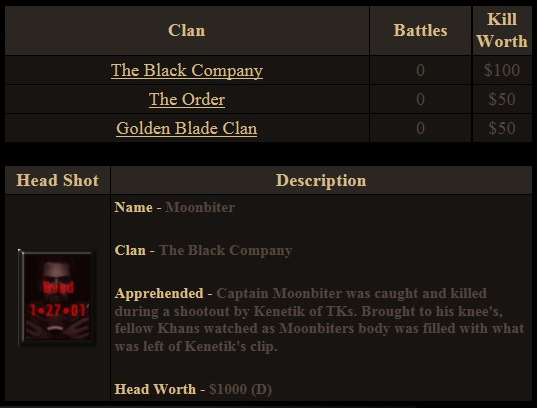 2001-January-28
- Gargantua enlists with The Khans
2001-February-01
- Khan Membership includes:
Viren

- Founder


Lalande

- 2nd
Xaris
Kenetik
Graves
BlackDeath
Biohazard
Grizzly Phase
Gargantua

2001-February
- Rei joins The Khans
2001-February-15
- Khans received community hosting at Vault13.net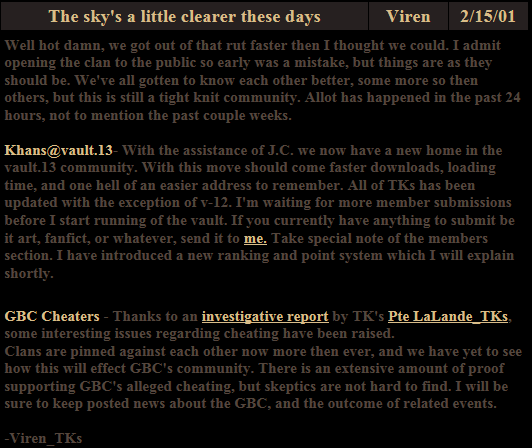 2001-February-15
- Khans maintain their old forums for private function, and V13 for public
2001-Februray-15
- Khans find themselve embroiled conflict with TBC/GBC in game and out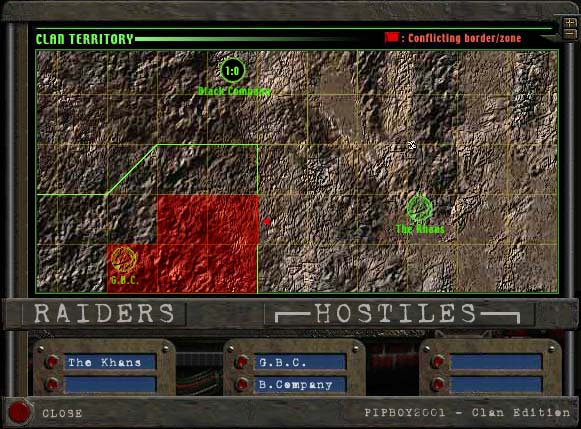 2001-February-17
- Viren steps back from TKs leadership, PTE Lalande takes command
2001-February-18
- Rei causes a multiple of problems in house, allegations of cheating etc
2001-February-20
- PTE Lalande betrays the Khans and creates his own faction with Kenetik "The Scorned"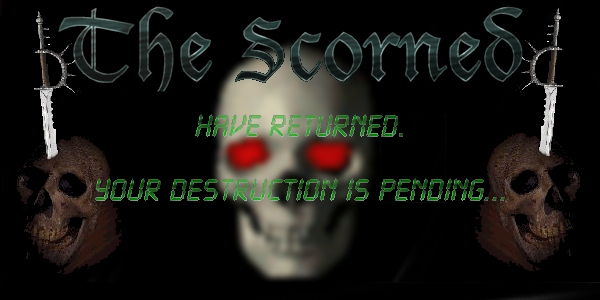 2001-February-21
- Graves assumes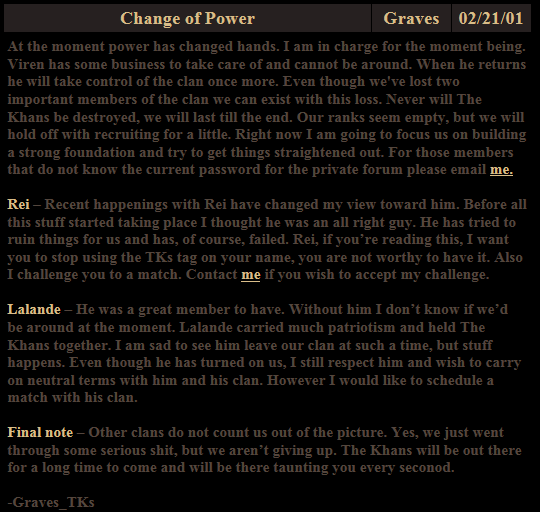 2001-February-21
- Graves immediately declares war on Lalande and Rei
2001-February-22/23
- There is significant disagreement over Graves decision not to recruit
2001-February-26
- Faction tags are changed to [Khans] for GSA appearance purposes
2001-March-15
- The Full Version of FOT is released
2001-March-20
- Rei is revealed by IP as GBC's Cyrus
2001-March-25
- The Khans fight and defeat the Canadian Rangers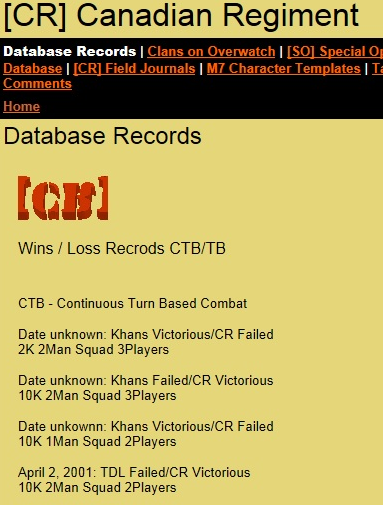 2001-March-30
- There is some dissatisfaction with the full version of the game
2001-April 1
- The entire FOT community is still split between demo and full version
2001-April 5
- Graves opens the door to recruitment, 11 man restriction remains however
2001-April13
- Graves posts a news update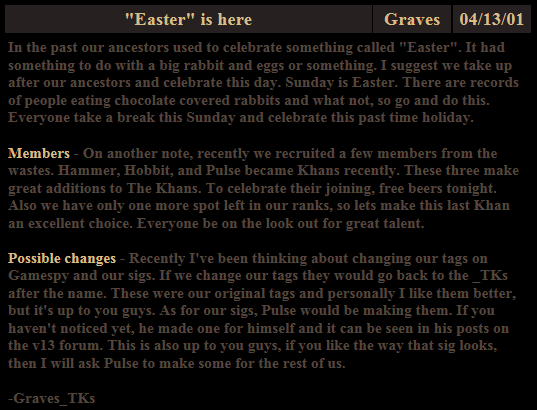 2001-April-20
- Membership and activity level struggle
2001-May-1
- Graves's activity level has dropped considerably
2001-May-2
- Scorned Dissolves, Lalande registers as a member of TBC
2001-May-3
- The Khans are stagnant without activity, events, or raids
2001-May-06
- Graves posts a may update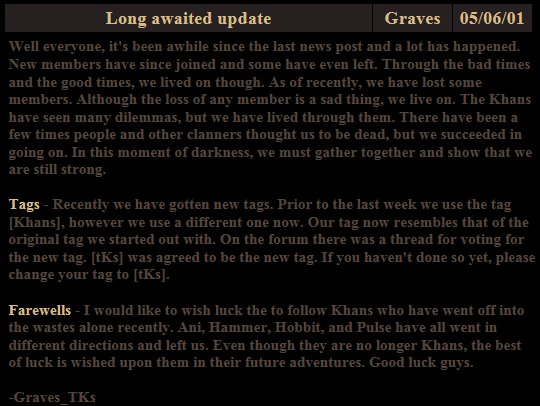 May-15
- Graves abandons the Khan Raider Leadership, Black Death goes with him
2001-May-15
- Only 3 Khans remain, Biohazard, Gargantua, Cass
*****NOTE*****
This is a forum conversation Graves/Gargantua had some time well after Gargantua took command
GRAVES: The clan stayed together because of me.
"Dude, I was there, the clan fell apart, BECAUSE of you, and your refusal to recruit new blood. And if Viren had passed power to ME, we would still be here today.
As for your 'recruiting tacts' Cass and Bio were recruited under Lalande's reign."
GRAVES: TKs did not fall when I was leader, it held strong.
"Yea, till you ditched it, because everyone was inactive, and then laughed at me for 'Riding a dead horse.' Oh I remember well.""
GRAVES: I left on my own terms and for my own reasons. Did I want to leave TKs? No, but I had to
"You didn't HAVE to do anything, you just quit because you didn't have what it was going to take to make things work. Don't think you can weasel your way out, I still have sig pics you uploaded from way back in the day, when you and BD went solo, Don't you remember your whole, 'waking up as a mutant' thing?
I should post those in this thread; as for you leaving '3 men in charge' by technical definition, you left the last 3 members 'in charge' two of which were in active."
GRAVES: Upon my leadership, I carried the true image of TKs.
"You carried the true image, of bastardity, and barbarism, like we do today, but you used Virens flawed concept/organizational model. And if you use it again, you will fail.
Lastly, how could we possibly forget that whole fiasco, of you coming down on this place, with BD and Kenetic, grasping control of the Private Khan EZ board, and deleting the most important parts of Khan pre history.
Oh yea, you've 'Always' looked out for our interests Graves.
Just like when you start your new clan, we are going to 'look out' for your 'interests'.
I bet Panamon's boot will be a loose fit up your sorry ass."
2001-May-16
- Gargantua assumes command of The Khans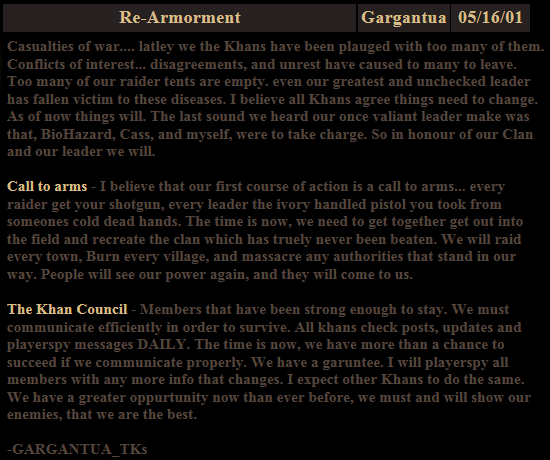 2001-May-17
- After being contacted by Gargantua, Cass confirms she has quit the game
2001-May-20
- Biohazard is determined inactive, and is never seen again **NOTE** It is later determined, that Biohazard was a spy - TBC's Stormshadow
2001-May-21
- Gargantua is the sole remaining Khan Raider
2001-May-22
- Ex TKs members, and FOT/V13 community leaders attack the Khan forums with hate/spam
2001-May-23 to 30
- The Khan forums are under constant harassment, as well as khan presence in GSA
2001-June
Khans are called a one man faction, a laughing stock and a joke,
*** Last updated August 31st 2015 - Still needs some fine tuning ***