Exacly one year ago, i had granted support of Mighty Gargantua to take over leadership of Khan activities on reloaded for the period of one two weeks.
The main reasons behind that deccision back then was lack of strong leadership for khans, as well as search for candidate for next leader of reloaded actions.
Here is little remindal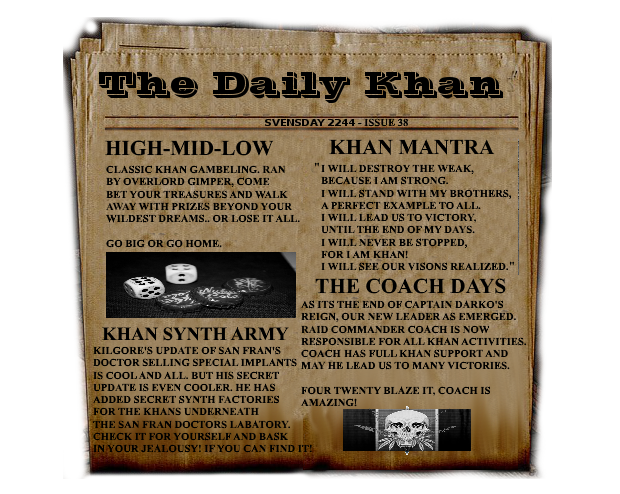 In the name of tradition let me announce Coach Days Anniversary!
For the period of next two weeks im taking over control and will push you to the victory and domination in over reloaded, it's great way to test
for any incoming candidate for leadership position.
We will show another factions that we are superior to them. It's time to embrace the force of our brotherhood and unite, no matter
what internal diffrences are.
In first week i will focus on some small cosmetic changes in organisation of teamspeak, trainings and in general reevaluation of reloaded goals.
Second week might bring awsers for many questsions, since rank system might not be responsive to the reloaded needs, till then new rank based on roles,
not hierachy would be introduced. I belive we can gather up and orgnize way better than any other klan and definietly better than we are now.
We will see how it all works and thenwe decide all together how we will move forward.
No pain, no gain
It's time to stop cutting of tickets what we've done and focus on whats need to be done to accually stand for what we represent!
Many thanks for you support durring this period of time, and all the effort we gonna make to build ourselves an army worth of the General.
This claim is approved by Mighty Gargantua.
Along with it we ressurect another great Khan tradition. Many thanks to Donnie D for releasing old but refreshed The Daily Khan magazine!
I hope it's just one of many incoming, there will be lot to write about, that's what im sure about!
I would like to orgnize meetings with everyone that is intrested into making our community more united on and dominative on reloaded.
At the same time we can host flaretrap, do massive patrol and later do some hinkley training to find our weakest points.
So everyone who can come 5 pm pagan time in saturday which is tommorow on teamspeak.
For those who cannot participate this weekend next if u can try to gather up monday 2 days from now 6 pm pagan time. All of your feedback is
apritiated - make it constructive though.
Hail Khans o/